This post contains affiliate links
To say I am honored for today's post is an understatement. Today I am bringing you the best fall tablescape ideas from women who I truly admire and look up to in the blogging/home decor world and they have asked me to join them.
I'm sharing 10 Beautiful Fall Tablescapes and decor ideas from 9 other talented ladies. This is the time of year when we kick off gathering around the table with friends and family. There is truly something for everyone here whether you're looking for something more relaxed, or upscale, or even for dining alfresco.
So let's go!!!
Wendy has such a talent for making her guests feel special and welcome. I love the color palette she chose for her table decor!  And wait until you see what she used as a vessel or vase for her flower arrangement! So creative.
I'm showing you how to use what you already have at home to create a relaxed table for a fall dinner party or Thanksgiving. The blue chargers are my favorite and they pair beautifully with gold accents and autumn leaves.
You've no doubt decorated your porch with mums this time of year but have you ever brought them into your table decor? The result is beautiful.
Stacy is the queen of all things gardens and flowers. So naturally, she created this lush tablescape with elements from her own gardens. Click to see how to create your own centerpiece using a vintage toolbox and natural elements.
If I'm being honest, I think alfresco dining in the summer is over rated with the heat and all the bugs. But in the fall, now that's where it's at. Lynn created this beautiful harvest alfresco dining table for her guests. I love the little cheeseboards.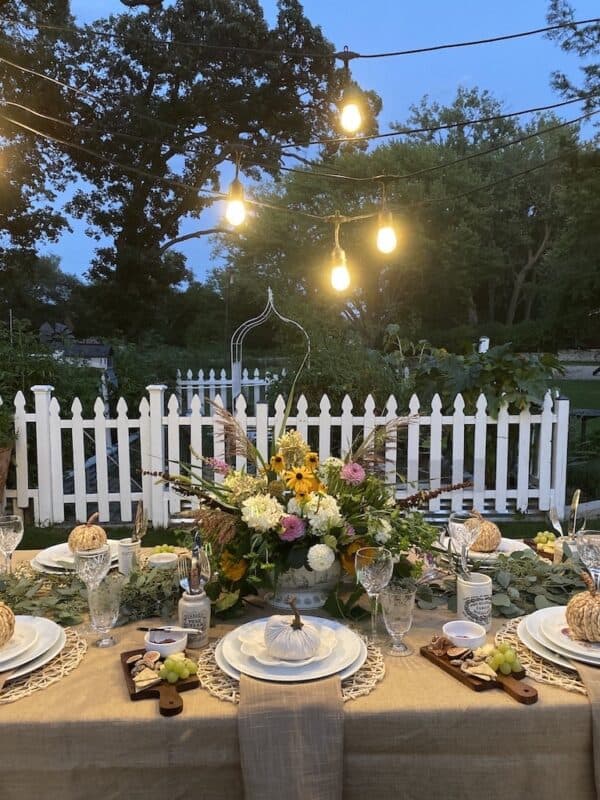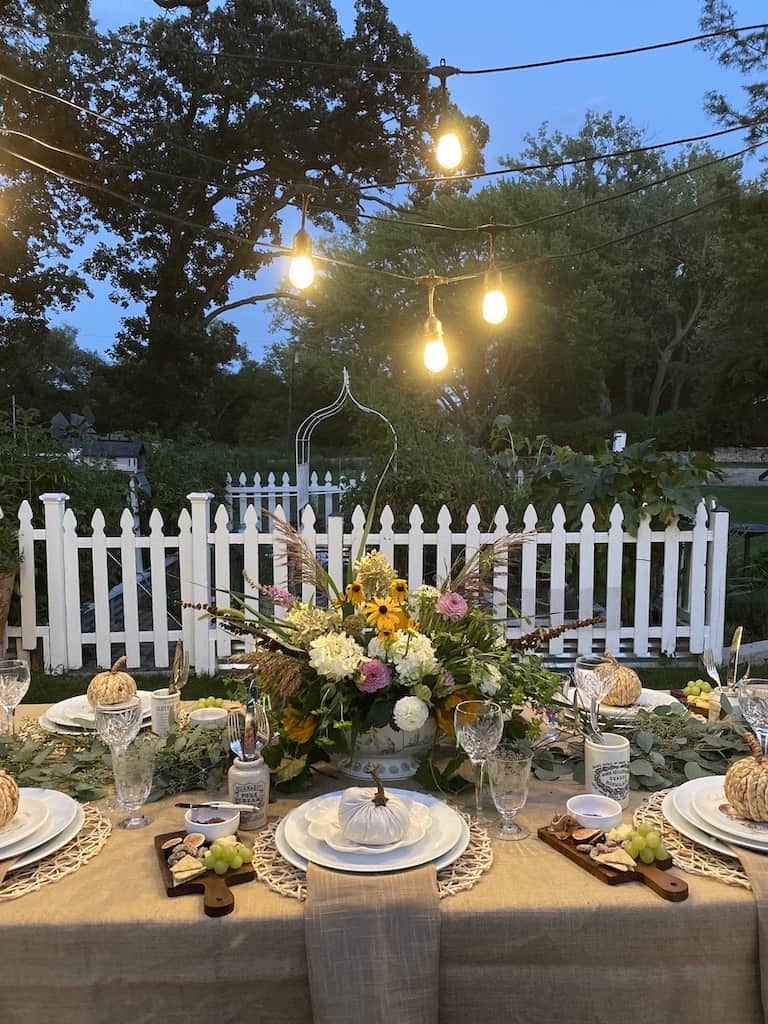 I always love to see what Michele creates because she has an eye for creating beautiful things in a neutral color palette and I love neutrals. Wait until you see these placemats she made using sheet music!
Kylie is showing you how to make a Halloween tablescape that is equal parts creepy and glam! Her centerpiece with moss, skulls and bones is my favorite!
Diane is a girl who takes after my heart. I've been known to forage and bring home some plants and things I find on my walks to decorate the house. She created this tablescape using dropcloths and elements of Mother Nature and it is stunning!
Kelly's got the right idea when it comes to setting the table for Thanksgiving – keep it casual! Candles and free printable placecards add just the right touch and make it personal.
Renae used artichokes, grapes and beautiful flowers and candles to create this elegant yet rustic tablescape. I feel like I've been transported to a vineyard in Italy. I love the vintage bike too for that old world feel!
I hope you are able to take away little pieces of inspiration as you dine with friends and family throughout the holidays.
I'm linking some of my favorite elements for dining below. Just click the photos to shop.
Be sure to subscribe for more decor, recipes and holiday ideas right to your inbox!