This post contains affiliate links
This is an easy DIY winter wreath to transition from holiday to winter decor.
This past weekend, we finally took down all of the Christmas decor.  I was ready for a fresh, clean slate for the new year, including a new wreath for the front door. I was inspired by the Anthropologie pom pom wreath with the fluffy and cozy vibes. If you haven't seen the popular wreath, here's a photo below.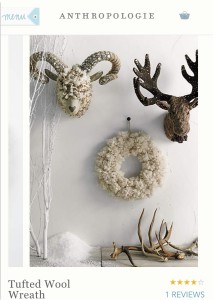 While I was at the Dollar Store, I found a few items to re-create the look. Scroll down below to see how I made this easy DIY winter wreath and Anthropologie pom pom wreath dupe.
Supplies:
Wire wreath form (The one I used was a little challenging with the gaps to glue the fabric on so I think a foam or straw wreath form would work better).
Fuzzy mop heads
Hot glue gun
Ribbon
Directions:
1.) Start by gathering all your supplies and heating up your glue gun.
2.) Separate each individual mop head, depending on the size of your wreath form and the mop heads, will determine how many you use. I used 8.
3.) One your glue gun is hot, line some glue on the wreath frame where you plan to attach the mop head then stick the mop head directly on and hold for a few seconds. Now since there were open spaces, some of the glue did drip through the gaps so make sure you have some newspaper or something down on your table.
4.) Continue to glue the mop heads around the wreath form.
5.) Once finished, allow to dry then tie a large bow with some ribbon.
6.) Glue the bow onto the wreath.
Super easy, took 10 minutes and cost me about $10!
I'll link some similar items below so you can make your own
Pin for later
Sign up below for more DIYs and decor ideas right to your inbox.