This post contains affiliate links
As the leaves start to change and the weather gets a little cooler, it's the perfect time to curl up in a comfy blanket and have a movie night or afternoon.  There's no denying that autumn just evokes a certain feeling. I'm sharing 13 movies to put you in a cozy fall mood.
Cozy up with a mug of my pumpkin spice hot chocolate (linking the recipe here) and get streaming.
13 movies to put you in a cozy fall mood
You've Got Mail –  "Don't you love New York in the fall? It makes me wanna buy school supplies. I would send you a bouquet of newly sharpened pencils if I knew your name and address." This one is sure to make you feel all the autumn nostalgia especially with Meg Ryan's cozy wardrobe.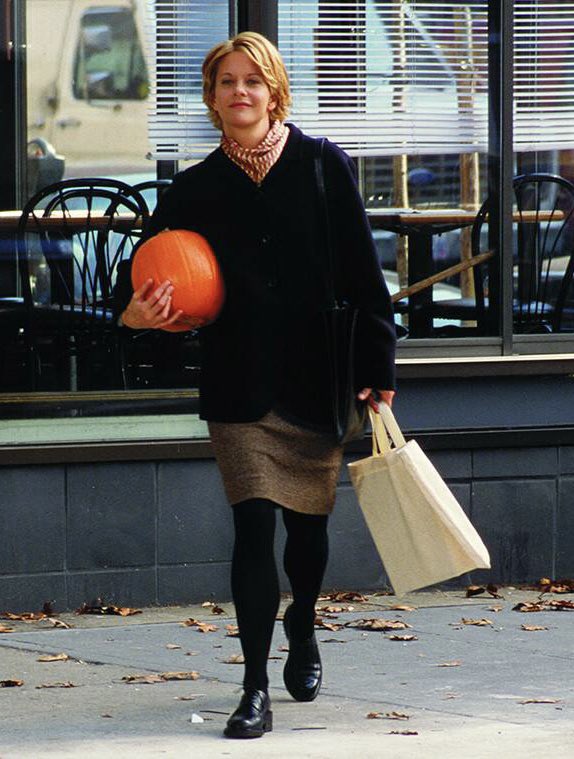 When Harry Met Sally – Practically every scene contains the golden colors of fall foliage as Meg Ryan and Billy Crystal walk through New York. This movie is a whole autumn aesthetic with the smooth jazz in the background.
Hocus Pocus – this is a family classic featuring the famous Sanderson sisters in Salem, MA.
The Craft – a group of high school girls in Los Angeles form a coven and grow rich with their powers. Ultimately, their powers lead them to suffer some consequences.
Practical Magic – 2 sisters and witches (Sandra Bullock and Nicole Kidman) live in Massachusetts with their witchy aunts. The scene where they are drinking margaritas at midnight and dancing in the kitchen is my favorite.
Autumn in NY – the title says it all. This one stars Richard Gere and Winona Ryder and is a story about how an older man falls for an younger woman with a chronic illness and their affair lasts the season.
Twilight – Vampires, warewolves, a tale of romance and a darker aesthetic make this a great choice for a rainy afternoon.
Mona Lisa Smile – This one takes place at Wellsley College in the 1950's, giving some true September back to school feels. This one stars Julia Roberts as the new art history teacher who brings along some progressive ideas that will challenge the girls about feminism.
Harry Potter – the Halloween feast at Hogwart's with all the floating candles and jack o lanterns will put you in the mood for the Halloween season. Binge the whole series.
Good Will Hunting – Set in Cambridge, MA at an ivy league college, and the famous scene where Matt Damon says "how do you like them apples?" It's only right to watch this movie as the leaves begin to change and during apple picking season.
Sleepy Hollow – Whether you're in the mood for a spooky movie or just to stare at Johnny Depp, this one is about a police officer who is sent to Sleepy Hollow, NY to investigate a string of murders by the Headless Horseman.
Little Women – Between the fireside, snug tweed outfits and the bonds between the four women, this will make you feel all warm and toasty inside.
The Sixth Sense – If you're in the mood for suspense and a psychological thriller this is a classic. Bruce Willis plays a child psychologist who helps Cole, a young boy who can see dead people.
The Village – this one is for lovers of a good thriller. An Amish style community doesn't dare enter the woods that borders them for fear of "Those we don't speak of". But when a young girl becomes ill, the man who loves her takes a risk in hopes of getting her medicine.
If you have a favorite fall movie that's not on this list, let me know in the comments!!
Must haves for the perfect cozy fall vibe

Pin this list for later
Sign up below for my printable fall bucket list and free artwork!
You may also like